FLOURISH!
Practical ideas for mental health and emotional wellbeing.
Flourish! is a packet of practical ideas and activities to help families, children, and adults care for their emotional wellbeing and mental health. It is the outcome of a popular webinar, "Balancing Emotions in an Unbalanced World," developed by Karen Holford. These sixteen topics include tips, ideas, and activities that can help people of all ages choose to experience positive emotions, even when facing challenging circumstances.
Flourish! is being used effectively with Ukrainian and Russian refugees to comfort in sad times, to soothe trauma, and to help cope with a challenging day. Some of the sixteen topics on how to Choose to Manage Thoughts, include Gratitude, Choose Wonder, Choose Laughter, Choose Purpose, and Choose to Help Others by Listening Well. The infographic-style posters are easy to read, and print on one page.
Download TED Flourish! from the TED FM webpage
Holford's webinar presentation for "Balancing Emotions in an Unbalanced World" may be viewed here: https://ted.adventist.org/balancing-emotions-in-an-unbalanced-world/. Download webinar handout PDF
Read more in our own newsletter column, "My Daily Walk with God."
Sharing resources
Karen Holford, director of Family, Women's, and Children's Ministries for the Trans-European Division (TED), encourages translation and adaptation of these materials to use in every part of the globe. She writes,"Please let us know how and where you use Flourish!, and link to our website for materials in English, so that we can measure the impact of these materials. If you have other ideas for using and developing materials based on Flourish! please let Karen know so that they can be shared with others." Karen Holford can be contacted at [email protected]
---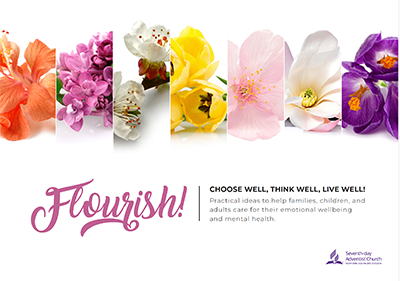 Resource developed in Europe is adapted in Northern Asia
Raquel Arrais, who is director of Family, Women's, and Children's Ministries for the Northern Asia-Pacific Ocean Division (NSD), took Holford's invitation and redesigned the packet to appeal to women.
Arrais also added a few extra items, such as a calendar titled "31 Days of Prayer for Women," presentation slides for each of the. sixteen newly-designed posters, and even a Zoom background image.
Download NSD Flourish! ZIP file